Boxing Training Classes
$

29.00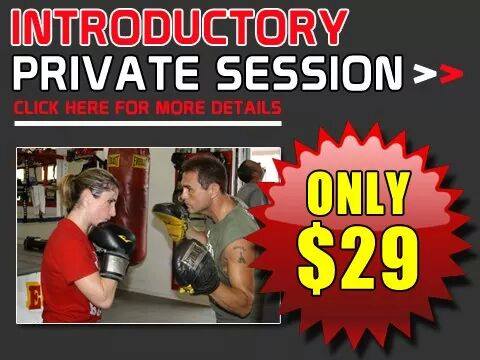 Why Absolute Boxing Fitness ?
Absolute Boxing is one of the hottest fitness workouts today, thanks to Million Dollar Baby, The Contender, Ultimate Fighting Championship, Cinderella Man, and the highest interest in professional boxing since the days of Ali and Frazier.
Absolute Boxing focuses on fitness first and boxing second. It uses sound boxing techniques (not the kind of "fake" boxing and martial arts that you see on some video programs) that get people in the best physical and mental shape of their lives.
A typical Boxing Fitness workout meets all of the criteria of an ideal fitness program:
Outstanding cross-training for any sport that relies on "core strength" (e.g. golf, tennis, baseball, football, basketball, martial arts, and more).
Both an aerobic and anaerobic conditioning component.
Strength training.
Variety and fun.
Easy to learn.
Low risk of injury (because the focus is on boxing technique, not actual fighting).
Helps burn calories and take off fat.
Addresses the biggest problem areas most people have (abdominals, butt, hips, and thighs - the "core").
Gets proven results.
Participants rave about Absolute Boxing, because workouts are always different, always fun, and get results. Plus, people learn to "Train like a fighter without the fight."
Call Tony Spain Today!
941.302.4181
Share